Spend less time maintaining your yard with a low-maintenance design plan.
If you're like most people, you love having a beautiful outdoor living space and the hours of enjoyment you get from spending time there. However, you probably don't love devoting hours every weekend to mowing, trimming, and maintaining your trees, plants, grass, and garden beds.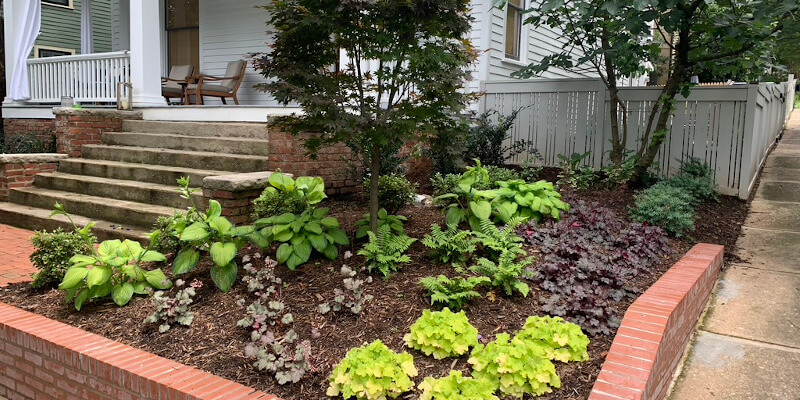 At Garden Environments, we believe that you don't have to sacrifice beauty for low maintenance. If you want to spend less time maintaining your yard but you still want to love the way it looks and functions, we can help you come up with a low-maintenance landscaping plan.
For most of the projects that we've worked on here in the Pittsboro, North Carolina area, low-maintenance landscaping means incorporating as many native plans as possible. Native plants can be easier to maintain because they naturally grow and thrive in their environment.
When designing your low-maintenance landscaping plan, we will consult with you to figure out exactly how much maintenance you're willing to put in. While some homeowners are willing to put in a little bit of maintenance, others want to put in as little as possible while still preserving the look of their yards. We can find the right balance with the plants, trees, and shrubs we choose and help you preserve the beauty of your yard.
If having a beautiful, low-maintenance landscape design appeals to you, our team is ready and waiting to get to work. For more information about our low-maintenance landscaping services or to set up a consultation, contact us today.
---
At Garden Environments, we offer low-maintenance landscaping services in the Triangle area of North Carolina, including Durham, Raleigh, Cary, Chapel Hill, Pittsboro, Carrboro, Hillsborough, Wake Forest, Creedmoor, Morrisville, Apex, Southpoint, Holly Springs, and surrounding areas.