We are passionate about landscape design that goes beyond your imagination.
At Garden Environments, we believe most people prefer outdoor living areas that help them connect with nature. The more elements we can include that restore and regenerate the natural environment, the closer we can get to a dream space that is right for you and for nature. Having a place where you can kick off your shoes and feel your stress slip away as your feet contact with the earth can have a huge impact on your overall health. Taking a deep breath and having a feast for your eyes because your landscape design is an alive, thriving space amplifies this benefit. One of our core philosophies is to create gardens that help you reconnect with nature, your friends and family, and yourself.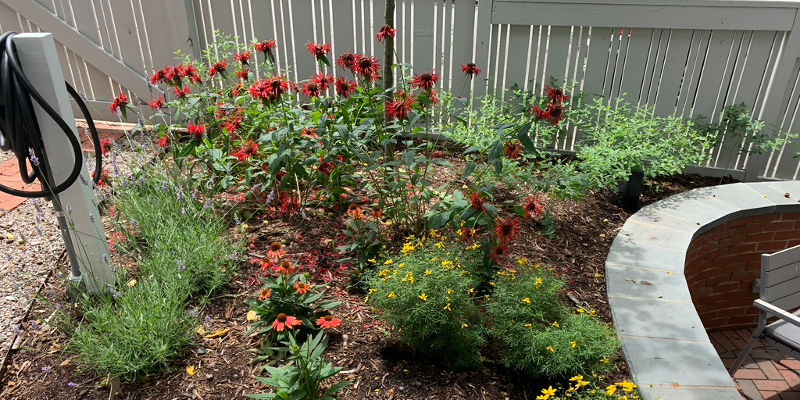 We have proudly served the Durham, North Carolina area for more than 25 years and take pleasure in each property we transform and each life we change for the better. It is why we do what we do! We love doing our part to leave the world a better place. We are confident that you'll feel a part of that, as well, as imagination blooms to create a space that provides a vacation without leaving home.
What our customers say
★★★★★ "Garden Environments delivered what they promised. The hardscape and softscape teams worked well together; they were courteous, hard-working, knowledgeable, and friendly. They answered our questions in a timely manner. We are very pleased with the results. Our garden looks gorgeous! The overall design surpassed our expectations- great trees, bushes, and flowering plants – great patio, planters and walkways. You did an amazing job!"
– Carmen W.
If you would like a landscape design that goes beyond the norm, one that is a sustainable landscape design that helps heal the environment, you have come to the right place.  We are true artists, not just gardeners, so you'll love the artistic landscaping we can create for you, along with functional outdoor living areas and landscape water features that add value to your home. Get started today by scheduling a consultation.