Maximize your space with a rooftop or balcony garden.
Depending on where you live, you may not have a ton of green space right out of your back door. But you still enjoy nature and spending time outdoors, and you want a place to escape to that makes you feel at home in nature.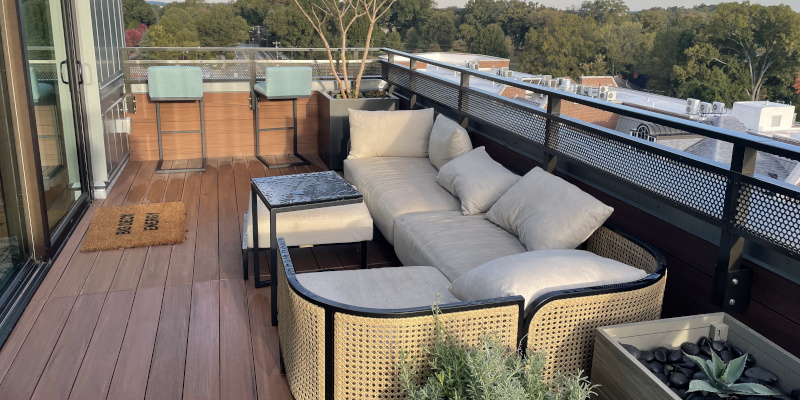 For smaller spaces, apartments, and condos, we often recommend rooftop & balcony gardens. At Garden Environments, we have designed many beautiful rooftop & balcony gardens over the years, incorporating many native plant species into our designs.
Although smaller than our typical design project, our rooftop & balcony gardens make a big impact. We carefully select plants and flowers that will enhance the space, thrive in all seasons, and contribute to a relaxing outdoor environment. This way, all you need to do to enjoy a beautiful outdoor space is head out to your balcony or your rooftop.
When you contact us to redesign your rooftop or balcony garden in the Chapel Hill, North Carolina area, we will start with a consultation. During this consultation, we want you to tell us more about how big your balcony or rooftop is, what kind of plants you like, and what you hope to achieve from this project.
We are excited to get started designing a beautiful rooftop or balcony garden for you to enjoy for many years to come. Contact us today to set up your consultation and to learn more about what our services for rooftop & balcony gardens include.
---
At Garden Environments, we create rooftop & balcony gardens in the Triangle area of North Carolina, including Durham, Raleigh, Cary, Chapel Hill, Pittsboro, Carrboro, Hillsborough, Wake Forest, Creedmoor, Morrisville, Apex, Southpoint, Holly Springs, and surrounding areas.